Drones can be very hazardous when not flown responsibly. Planes and helicopters are moving quickly and drones are nearly impossible to detect in the air. From the EHS LifeFlight team, it's important to know how to fly safely before you go!
LifeFlight Critical Care Paramedics w/ Omar Corsetti
National Nursing Week Profile - Janine MacDonald
The Next Generation of Nova Scotia's Critical Care Paramedics
The next generation of Nova Scotia critical care paramedics are here.
In January, six advanced care paramedics graduated from the inaugural class of the new Critical Care Paramedic Program. To be considered for the program, applicants had to be advanced care paramedics with a minimum of five years' experience and active licensure in Nova Scotia.
Two of the graduates will work at the emergency department at the QEII Health Sciences Centre. The remaining four will be part of the EHS LifeFlight program, caring for Nova Scotians in the air and on the ground.
"I was thrilled to be part of it and to be selected. The selection process was intense on its own, so to be successful through that was definitely very exciting," said Matt Dumaresque, a 10-year EHS Operations paramedic who is one of the four graduates who will be working at LifeFlight.
Michelle Brown, who has been a paramedic for 16 years, the last seven as an EHS Operations Senior Operations Paramedic and Supervisor, jumped at the opportunity to join LifeFlight.
"I would have done it earlier if the opportunity existed, it's been a long-term goal of mine, but this is the first time that it's actually been an opportunity for me," she said.
"Opportunities like this are few and far between, and I absolutely feel privileged that I was able to be part of this group."
The pilot program, which was offered by Nova Scotia Health's Registered Nurses Professional Development Centre (RNPDC), launched in September after nearly two years of collaboration between the RNPDC, QEII Health Science's Centre Simulation program, the Department of Health and Wellness, the College of Paramedics of Nova Scotia, Emergency Medical Care (EMC), EHS Operations, and EHS LifeFlight.
"The implementation of this program has monumental implications, not only by providing paramedics access to a competency designed Critical Care Paramedic education program, but also by ensuring critical care paramedic resources are available for current and future initiatives that will support the overall Nova Scotia health care system," said Dana Fidgen, Director of Critical Care at EMC and co-lead on the project to develop the program.
Barbara Fagan, Nurse Educator with the RNPDC, echoed those sentiments at January's graduation ceremony, which was held virtually.
"I have to really say that this is probably been one of the most challenging and one of the most rewarding projects that I've ever had the opportunity and the blessing to be able to work with," she said.
"I've had a deep and unwavering respect for paramedicine throughout my career, and that hasn't changed. If anything that has grown, and I know that each and every one of you will have a huge impact on the healthcare system."
There are now 30 critical care paramedics in Nova Scotia, out of more than 1,300 licensed paramedics, and this program is a milestone to potential future expansion of LifeFlight, said Colin Flynn, senior manager with EHS LifeFlight.
The four new graduates who are EHS Operations employees will complete orientation and training and then work half of their time in their regular ground operations duties, and the other half at LifeFlight, adding to the eight existing critical care paramedics at LifeFlight.
"This is a major step toward stabilizing the critical care workforce and allowing us to grow because we now have a pathway to licensure within the province that all paramedics in the province can be proud," Flynn said.
Ever since Joel Connolly became a paramedic nearly 13 years ago, his goal was to make it to LifeFlight as a critical care paramedic.
"That scope is the pinnacle and the highest scope you can achieve in Canada, and I'm a person that goes after the next step. I'm never really satisfied and I like the challenge," he said. "To join that team, it's been extremely humbling. The learning curve has been steep, but it's going to stay steep for a long time."
For Joan MacNeil, joining LifeFlight is another step in a long career in health care, which has seen her spend 20 years as a nurse and the last 13 as a paramedic.
The independent decision-making process that the team of critical care flight paramedic and a critical care flight nurse need to employ on each mission is what attracted her to the LifeFlight program.
"When you're doing (critical care) medicine, you're using all of your skills with very little backup – it's you and your partner in an enclosed space with the sickest people trying to make a difference until they can get to the place where there are other resources that they need," she said.
"We can't let them get worse in our care, so it takes every bit of training, every bit of thought, every bit of calm that you have to try and make a difference to these patients."
While Brown said she enjoyed the experience of expanding her scope of practice, it will be Nova Scotians who will reap the benefits of this experience.
"It basically provided us with the foundation to become stronger clinicians and therefore providing better care to Nova Scotians," she said.
Dumaresque agrees.
"Just being able to go to LifeFlight and to learn from the critical care paramedics and the critical care nurses out there, who are so good at what they do, that was probably the most exciting for me."
"And being able to get to those remote places in Nova Scotia very quickly to bring the highest level of care to the patient is very appealing."
March 3, 2022.
IWD Profile: Michelle Brown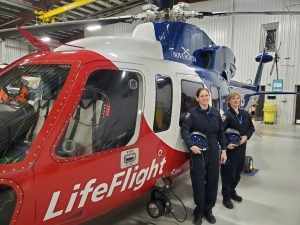 As a fan of lifelong learning, becoming a critical care paramedic was the next logical step for Michelle Brown.
Brown entered paramedicine 16 years ago, the last seven of which was as senior operations paramedic and then as a supervisor.
But she jumped at the opportunity to apply for the new Critical Care Paramedic Program, which was a collaboration between multiple partners, including Nova Scotia Health, EHS Operations, the Nova Scotia Department of Health and Wellness, Emergency Medical Care Inc., and EHS LifeFlight.
She recently graduated from the program and, along with colleague Joan MacNeil, will become part of a very small group of women who have been critical care paramedics in Nova Scotia's history.
"Becoming a CCP and joining the LifeFlight team is a privilege, and an opportunity that I've wanted for a very long time."
"The education aspect has always intrigued me," Brown said. "Yes, flight transport is absolutely exciting, but really that wasn't the sole attraction for me. I've always admired the critical care team and for years have aspired to follow in the footsteps of these elite professionals."
Six students graduated from the critical care education program, which was held from September to January, four of whom will be going to LifeFlight and the remaining two at the emergency department at the QEII Health Sciences Centre.
Brown said the program provided the group with a good foundation to become better clinicians, but graduating was the first step.
After orientation and on-the-job training, the four will be paired with critical care flight nurses and they'll begin being sent to scenes across Nova Scotia, tending to patients who need it the most.
"It was absolutely a challenging program – we came out stronger in the end as a result. And although it's early in orientation, I have already noticed improvements in my clinical practice," she said.
"I learn something new with every shift and will continue learning over the lifespan of my career. The LifeFlight team has been very supportive and are working hard to help ensure our success."
She welcomes the challenging path ahead on her journey towards independent practice and expects it will likely take about six months before she gets her "wings".
"Once I'm deemed ready for independent practice I'll be well equipped with the skills and knowledge required to care for our most critical patients," she said.
"It truly is a team approach involving a significant amount of collaboration to provide the best patient care possible. The critical care nurse-paramedic team composition really compliments one another well and is further strengthened by the support of our Medical Control Physicians and management team."
While she and MacNeil have joined the small group of women critical care paramedics, Brown believes gender is irrelevant when it comes to taking on these roles.
"You demonstrate the skills and the competence to do the job then you should be provided with the opportunity to do so regardless of your gender, and I don't think it should ever be a factor," she said.
"I believe my application was successful due to a combination of intrinsic assets and because of exceptional mentors over the years who have helped shape my clinical experience. I'm grateful that gender neither impaired nor enhanced my chances."
Nevertheless, she said she sees herself as a role model for other women paramedics.
"Absolutely, I would like to think that this can motivate others."
March 16, 2022.
IWD Profile: Joelle Grant
As a new nursing graduate working in the emergency department, Joelle Grant had no knowledge or concept of what EHS LifeFlight was.
Then one day, a few weeks into her nursing career, the LifeFlight team brought a patient into the QEII emergency department and her career goals had completely changed.
"I instantly was like 'I have no idea what that is, but that is amazing," Grant recalled.
"That level of nursing and paramedicine, the way they that they're respected in the department, the things that they're telling me that they just did in this one-hour flight, I was in awe."
In the summer of 2020, almost a decade since earning her Bachelor of Science in nursing degree from Dalhousie, Grant was hired as a critical care flight nurse at LifeFlight, something that she calls a "dream come true".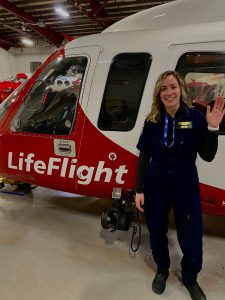 "For the past nine years, everything in my career that I have done in one way or the other was to try and get myself here," she said.
Originally from Fredericton, Grant moved to Halifax in 2008 to go to nursing school and decided to stay as her career took off after graduation once she was hired at the QE II.
She had always had an interest in entering the medical field, but nursing only entered her radar at a friend's suggestion, quickly zeroing in on emergency medicine.
"I kind of knew I had an interest for emergency medicine because it suited my personality," she said. "I was really interested in emergency nursing and trauma and that kind of fast-paced environment. I like things to be different every day and not have predictability in my day and just to be busy."
She quickly rose through the ranks, becoming a charge nurse in the ED at the age of 26, and then set her sights on achieving other career goals.
Grant currently splits her shifts between the emergency department and LifeFlight, and considers herself lucky to be in the position she is in.
"It seems surreal still that this is actually my career, and that I come here every day and get paid to be here, because it's been everything I had hoped for and more," Grant said of her experience at LifeFlight.
She credits strong women in her family and those she met along the way for helping get to live out her dream each day.
"I had a woman who was a respected leader in the ED push for managers to give me an interview as a new grad," she said.
"I've had strong women support me throughout my hiring process with LifeFlight, and I've had brilliant and inspiring women mentor me throughout my orientation and be perfect examples of what a critical care flight nurse with EHS LifeFlight should be."
March 6, 2021.
EHS LifeFlight Launches Transfusion Program
EHS LifeFlight is excited to announce the launch of a transfusion program that will further enhance patient service delivery.
On June 8, 2020, EHS LifeFlight adult critical care teams began carrying two units of blood on all missions for transfusions, becoming the second air medical transport service to offer such a program in Canada and the first in Atlantic Canada.
The initiative was developed in partnership with Nova Scotia Health Authority's Transfusion Medicine service at the Halifax Infirmary.
In time-sensitive situations, early administration of blood could potentially have a major impact on patient care.
"The addition of a blood products program will assist the EHS LifeFlight teams in the treatment of many injuries and illnesses in a timelier manner," said Colin Flynn, Senior Manager, EHS LifeFlight. "For trauma-related missions, the administration of blood products early in the process could have a significant positive impact on our patients."
Any unopened blood will be cycled back to the Transfusion Medicine laboratory.
"We are thankful to NSHA Transfusion Medicine Program for their partnership in this initiative," Flynn said. "We encourage everyone who is eligible to roll up your sleeve and give!"
For more information on donating blood and to find the nearest donation clinic, please visit: https://www.blood.ca/en
CTV's Nova Scotia's new LifeFlight choppers finally ready for takeoff