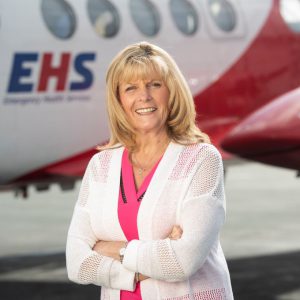 President/Chief Operating Officer                                                                                                                                                           
Paula Poirier has been the President/Chief Operating Officer (COO) of Emergency Medical Care Inc. since February 2009. As COO, Paula provides leadership in the development, operation and strategic long-term planning of EMC and its initiatives.
Paula has more than 17 years' experience in the field of emergency health services. She served as Director of the Emergency Health Services (EHS) Provincial Programs for the Department of Health for eight years. In this role, she was responsible for four provincial programs, with a key focus on the development and implementation of the Nova Scotia Trauma Program, Simulation and Training Centre, Medical First Responders Program and the day-to-day operations of EHS LifeFlight. She also continues be actively involved in the National Trauma Association of Canada (TAC) as current President, Trauma Systems Accreditor and Co-chair for the Trauma Association of Canada Accreditation Committee.
Paula began her clinical career in many areas (e.g., general surgery, orthopedics and emergency) at the Halifax Infirmary Hospital (HIH). She progressed through diverse management roles: Nurse Manager, General Surgery Unit, HIH – Medical/Surgical ICU, Victoria General Hospital – Medical/Surgical ICU and Neuro ICU, Capital District Health Authority (HIH) Medical/Surgical/Neuro ICU; Acting Director – Cardiac, Emergency and Thoracic Portfolio (QEII); and then Manager of the Nova Scotia Provincial Trauma Program (EHS) for four years. Paula graduated from St. Martha's School of Nursing in 1979. She holds a Bachelor of Nursing degree and a Master of Nursing degree from Dalhousie University.
Director of Development, Air Medical Transport, TeleHealth, Medical Communications Centre & Integrated Health Programs
Paula Martell is the Director of Performance and Development, AMT and TeleHealth at EMC and has been in this role 2010. Prior to assuming the role of Director, Paula was Program Manager for EHS LifeFlight. In this role, Paula is responsible for a broad corporate portfolio in performance and development as well as two operations in EHS LifeFlight the critical care air medical transport (AMT) program and the TeleHealth 811 program.
Paula has over 34 years' experience as a medical practitioner as both a registered nurse and paramedic, highlighted with specialized training and experience in areas of critical care, pre-hospital care and air medical transport.
In addition to her comprehensive clinical training, Paula completed a Masters of Business Administration degree in 2009 which also included specialized certificates in Fundamentals of Business, Advanced Business Management, and Advanced Business Strategy.